Okay, so I haven't been here in ages. I have been so busy with work and home, life, the Color Combo blog, and not feeling very well throughout. My anemia has gotten worse, the last time I got my blood checked, my iron level was at 5 (normal is 13). The doctor couldn't believe I was actually walking, normally levels that low you'd be dizzy and very weak. Doesn't help that I am a smoker. But I didn't feel any of that, well, maybe just very lazy and sleepy. But I was able to see straight and drive and did start feeling better after taking care of myself a little wiser. But recently it started again, I have been getting dizzy just coming up the stairs or picking up things from the floor as well as very frequent, pounding headaches. By the time 8pm rolls around, I am ready for bed. No energy whatsoever. Very unlike me. I am supposed to be scrapping and relaxin'!!
I am doing my best to raise my levels up with a double dose of iron pills and eating foods with high iron content. Haven't kicked the habit yet, but I feel a little better. Work still stresses me a bit and after the boys get home, the headache is pounding. Love them to pieces, but they are just very loud!
On a lighter note, the kids are doing great. Zayn is completely done with his baby teeth and actually pulled the last one himself. Something I never had the guts to do for myself! So with DH on the road Zayn had no choice but to be brave. Sorry honey, I have to hold the camera. LOL, I am just too squeamish for that. He did it though, and realized how silly he looked on the playback because it didn't hurt a bit! Jabran is doing very well in Kindergarten and Rianna is content just being a princess. Thanksgiving is at my house, although our family consists of 4 sisters, a brother, 5 spouses, 13 grandchildren, 2 great-grandchildren and two wonderful parents, my turkey and stuffing will be devoured with my Mom and Dad. Everyone always spends it with the in-laws and I got none, so they come to my house.
Well no more talk, want to get to some layouts that I really want to share with you all!
Pencil Lines and Color Combos Galore
Pencil Lines 110
, I never use purple, in fact, I don't like it. So this was definitely a challenge for me, once I started working with the colors, I loved how it looked!
Pencil Lines 108
, along with Suzy Reap's
Journaler's Junction
Challenge to simple journal using the 5W's of a story. Easy. Yes, Jabran is screwing pegs onto the gondola cars of his puzzle. He was only 3 here.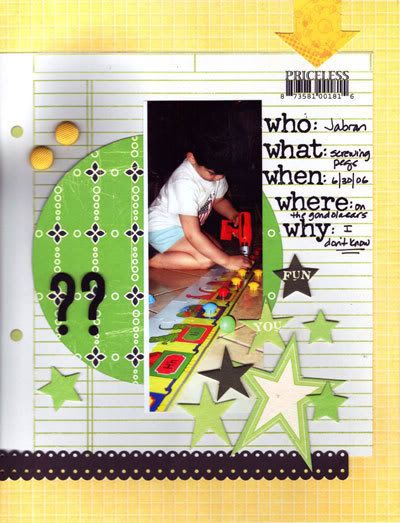 Pencil Lines 105
, a very loose interpretation of the sketch. I flipped it to the side. I used
Studio Calico's Iconic
and other SC goodies.
some more Combos...
I actually used spider stickers! These were in my stash from 4 years ago. But aren't they so cute?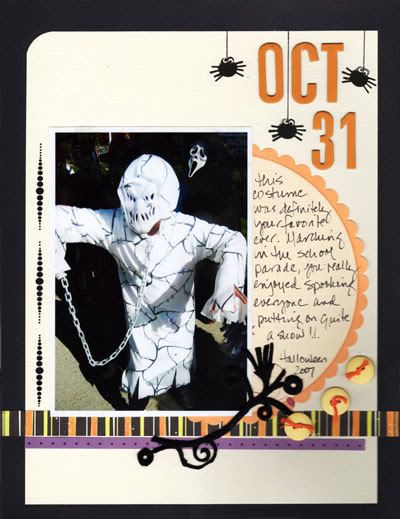 Design Team member Belinda Venables made up this combo. This is my niece and grand-niece on her christening. They were both so tired, but I truly love this photo. I was flipping through my photos looking for a pic of my daughter to use for this combo and came across my niece's dress. How PERFECT!!
and some for Sketch This!...
Sketch This! #74
. Cool sketch, first time I filled the page with a photo.
Sketch This! #70
. We had taken this trip a year earlier. This year I went along with his class, I grabbed these seats and was thrilled when I got this shot!
Sketch This! #69
. Not much story here. Just my beautiful Zayn.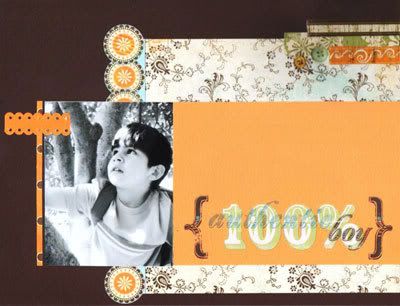 Thanks for listening and looking.
Hope you all have a wonderful and happy Thanksgiving!
~janet