"
What we are going to do right now is go back, way back. Back into time!"
. Haha, no, I'm not talking Disco Fever or a Saturday Night Disco Dance Party with Joe Causi.
Color Combos Galore
is going back in time, revisiting some older color challenges. We are playing Flashback with our favorite combos from this year. This week, we are choosing any of the 2013 Color Combos. You can find them
on the site
or on
Pinterest
. My card, using the current
My Favorite Things
sketch* and
Simon Says Stamp!
July "Summer Party" Card Kit*:
Now I do love each and every color combo I have made throughout the years, this year especially. The colors were so trendy and the inspiration photos were fabulous. So needless to say, it was not easy choosing a favorite. However, I favored this Inspiration Board with Photo #3 - the Mehndi laced hand of the Indo-Pakistani bride. It brought me back to my own Pakistani ceremony the night before our "real" wedding, my red dress and how pretty those women decorated and painted my hands.
The designers were instructed to choose an element from any of the photos as inspiration, but not allowed to use any of the four original "Focus On" challenge prompts from the original
Reveal post
. I chose Inspiration Photo #2.
The original challenge for this was "Focus On: Repetition and/or Sequence", but for this week's Flashback Challenge, I couldn't do that. So I focused on the layered tone-on-tone plates. My interpretation from that was to create the same tone-on-tone effect, layering elements cut from the same background paper. I really love the look it gives and I have been wanting to do this technique for like,...ever. I think it looks so cool.
This is the sketch I used. This
Moxie Fab
birthday* card had to include clouds* for the
Charisma Cardz
* challenge, so I used
Flat-Bottom Clouds
for my effect. The paper is ColorMates. I collected these cardstock sheets many years ago - great range of colors, but I don't even know who sells them anymore.
When I first saw the sketch, I really wished I had their washi stamp and die set. It would of been perfect.
Instead, I substituted that element with one of the file tabs from
LLD Accent It - Labels and Tabs
. For the center block, I layered
Postage Stamp STAX
over the
Insert It - InstaFrame
. And don't you just love these balloons? These adorable balloons are the
Party Balloons
stamps and dies from their July release. The tie ribbon is too cute. LOVE!! So happy I got them.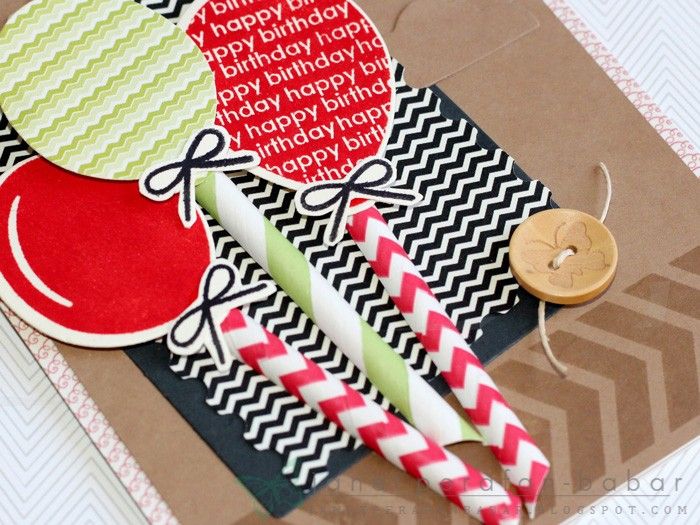 I was really happy with the colors in this month's card kit. Bright, bold, fun colors. The background, chevron block and center balloon are 6x6 papers from the
Lily Bee Designs Sweet Shop
collection, and so is the "party time" word label. I had no idea what to do with the straws at first, until I was making the balloons. But even when I pop dot, and double pop dot the balloons, the straws were still bulky. Scratched my head a bit, then I cut them in half and angled the tips. KAAA-UTE!!!! Oh, that chevron arrow stamp on the bottom is
Jumbo Mod Borders
, also from their July release. It was stamped with
Kraft
ink.
I had a total blast playing with some of my MFT dies, and I totally LOVED this kit. Simon Says Stamps! kits are so fun to get. My August kit already came in past a week, so must dive into that one real quick and not get backed up.
Hope you are enjoying your creative time too! Have a FABULOUS week, and do check out the
Color Combo Challenges
, I would love for you to try a combo!
Happy Scrappin'!!!!
xoxo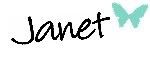 (See below for all challenge and product links to this post)
What are your thoughts?
---
challenge entries:
Project List:
{ Party Time } Card:
Kit: Simon Says Stamp! - Summer Party (July 2013 Card Kit) --
SOLD OUT
Lily Bee Design: Sweet Shop - Pink Mint, Licorice Whip, Lollipop 6x6 papers
Lily Bee Design: Sweet Shop Chit Chat Stickers
Jillibean Soup: Cool Beans - Etched Butterfly
Simon Says Stamp!: Paper Straws - Red & White, Green & White
Other:
Bazzill Cardstock: Walnut Cream (Smooth) [8-816], Cream Puff [8-804]
ColorMates Cardstock: Dark Coffee Brown, Dark Heritage Black
Misc: jewelry hemp cord

stamps, dies & inks:
My Toolbox:
linked products available at
mftstamps.com
and
simonsaysstamp.com