One of the best things about the online community at Two Peas is developing friendships with wonderful people.
Debbi T
is one of them. I don't remember exactly when we met or became as close as we are, but I am glad we did. Recently I was telling her about me not being able to sit down and scrap like I used to. She wouldn't hear of it. She told me to create a page that night. Allrighty I said, then challenge me with something. She told me create a page using purple and make it about me. ACK! She knows me too well, I never use purple and really only scrap about my children. She knew she got me. But just like her, I love a challenge. So I hung up and off to the scraproom I went.
So here is my page. I found this sketch that night at
Triple the Sketch
, it was perfect: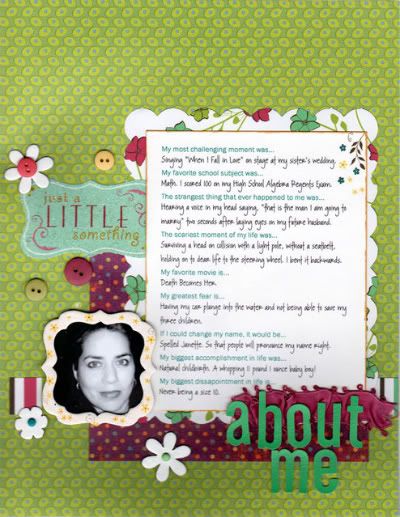 Gosh, I HATE my nose!!!!
Journaling reads:
My most challenging moment was...Singing "When I Fall in Love" on stage at my sister's wedding.
My favorite school subject was...Math. I scored 100 on my High School Algebra Regents Exam.
The strangest thing that ever happened to me was...Hearing a voice in my head saying, "that is the man I am going to marry" two seconds after laying eyes on my future husband.
The scariest moment of my life was...Surviving a head on collision with a light pole, without a seatbelt, holding on to dear life to the steering wheel. I bent it backwards.
My favorite movie is...Death Becomes Her.
My greatest fear is...Having my car plunge into the water and not being able to save my three children.
If I could change my name, it would be...Spelled Janette. So that people will pronounce my name right.
My biggest accomplishment in life was...Natural childbirth. A whopping 11 pound 1 ounce baby boy!
My biggest dissapointment in life is...Never being a size 10.
Thanks for the challenge, Deb!!! :)
And thanks so much to you for stopping by! Have a wonderful day!
~janet