I am super excited for the reveal over at
Studio Calico
tonight! Still haven't had the time to scrap, when I used to sit down after the kids were in bed and I would play with my paper and adhesive, now, I just want to sleep. But I am staying up til midnight for the reveal, my credit card is on my desk and ready for some serious authorization! Between the sneak peeks from the DT and at
Studio Calico
, I am soooo getting me some! It all looks REALLY GOOD. I have to scrap! I have to scrap! I also ordered some stuff online and it came this week. It is still on my desk, crying out
"come play with me!!!"
, I touch, admire, and sigh:
"I will play with you later, I promise"
. Most of what came in are the RAK's for Color Combos Galore, so I will be shipping that out soon. I miss hanging around Two Peas and have only squeezed in a layout once a week. Each one I have done this month has been digital, although, I love the digi, I have to paper scrap!!!!
Someone help me!
Haven't scrapped and of course, haven't updated all week. My daughter turned three on Monday. It's incredible how time has flown by. I was truly blessed with her following the boys. I so wanted a girl, and never found out the sex of the baby. I love my boys, but I really needed a little girl. And what an experience that was when she was born. I cried, and cried, and cried. The joy, the emotion, seeing her taken to the warming table and seeing girlie not boy parts. Oh MY!!! It was wonderful! She amazes me. She is funny, beautiful, sweet, and at times, reminds me of me in her actions and personality. I love her to pieces!!! And even though I am a bit saddened that she is growing so fast, I am SO enjoying her grow. She just has to slow down a bit. But YAY! She is three! She got her ears pierced a few weeks ago for it. I have been procrastinating for a long time. It was supposed to be done at 6m period, then I said 1yr, then at 2yrs old, but never went. I was too afraid of the pain for her. We started talking a lot about it for months, and I was 'preparing' her for the pain. Finally one day I was getting her dressed and I said to her, "You look pretty as a princess". She responded, "Yeah, I need my princess crown, my princess shoes and my earrings". Her voice was like making a list and dragging out the last syllable. Like, lah-lah-laahhhhhh, lah-laahhhhhh, lah-lah-laahhhhhh, too cute. Anyway, that was it, I decided to go that day and get them pierced.
sigh
.
choosing the earrings:
getting ready...she is so excited!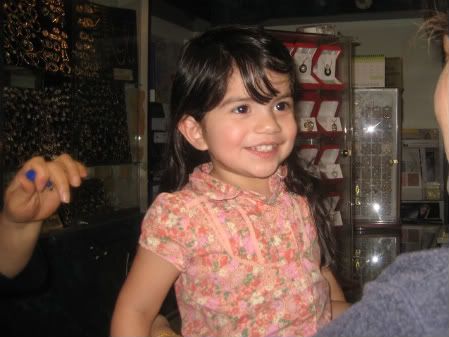 marking the spot:
just making sure it looks good:
here we go!!!!:
ok....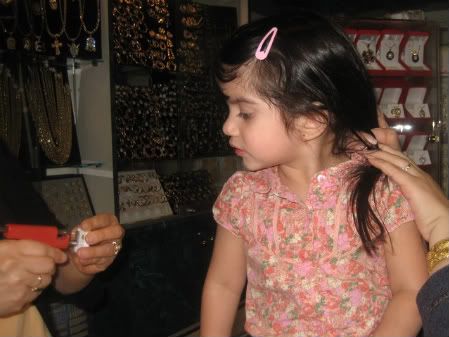 one, two, three!!!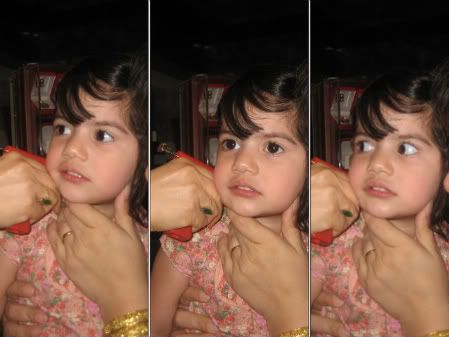 uh, yeah that kinda hurt!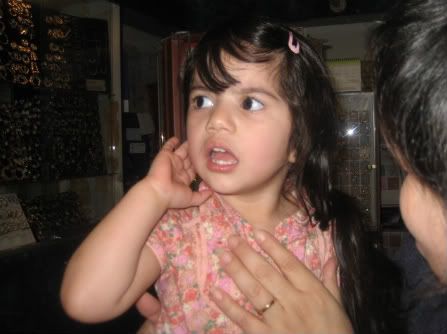 The pain hit her a little when they pierced her other ear. But it wasn't so bad, she is just too cute. You can see the rest of the experience on the video here......
And of course, I created a layout for this momentous occasion. These are the colors for this week's challenge at Color Combos Galore. Kimber McGray is our Guest Designer this week, she is on the Sketch This! design team with me, and she just ROCKS those sketches with her cards!!! Here is her choice of colors: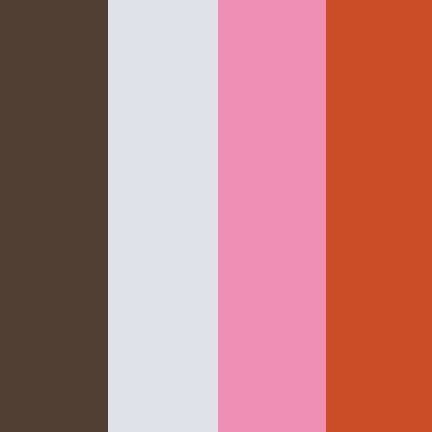 saddle brown - icebreaker - pink illusion - tomato
I used
Pencil Lines sketch #90
:
The pink was a little hard to get in there, it's almost invisible, but it's there.
Wow, this turned out to be a really long post!
Thanks for stopping by, hope you're having an awesome day!
Janet