Oh what a busy week!
Jabran had his birthday party this weekend. He changed his mind from a Ben 10 theme to a Speed Racer one. When I went to Carvel to choose the cake, I showed them what colors I wanted from a Speed Racer sticker I had. They asked me if this is the image I want on the cake. I said, Wait, you can do an image? COOL! But the sticker I had was too small. So I went home and searched the internet for wallpaper images. Jabran chose his favorite, unknowing that it was for the cake. I tell ya, that cake turned out awesome!!!
Here are some layouts I did from his birthday both using this week's FABULOUS combo at Color Combos Galore. Kim Moreno is our guest this week and she wanted red with yellow so I sent her this:
golden - black - dove white - deep red
This one is for Sketch This!. Also played Scrap your CRAP (use more than 5 photos) and the Journaler's Junction (find a little humor in life), the artificially colored, high sugared drink, the blue tongue result, ok, made the best of it and took a pic.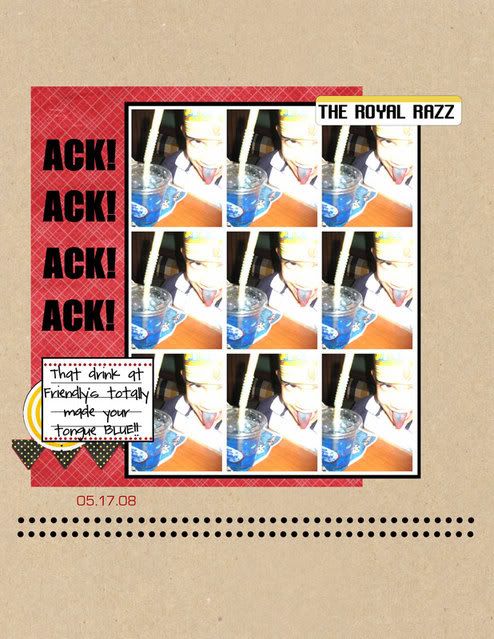 this one is the one I made for the color blog. This is the first time I actually remembered to write down what the children got on their birthday. Take a look at that cake! Super awesome!!
I am bursting! I received some exciting news in my email this morning but can't reveal yet, I will hint, one of my layouts was chosen as a favorite, for the whole MONTH!!! Whose you say? I can't tell ya, but its BIG! Woohoo!!
tah-tah for now!
xoxo