Falling behind on my blog again. I did change the music and colors...for now. Oh, and I still need a cool banner.
Like the music? It's is my housecleaning music. That's why I hardly get it done, I am dancing with the kids when it's on. :)
So I will catch up on my week. This weekend we were supposed to go see Thomas the Train in Maryland, but the tickets were sold out. Yeah, I forgot to reserve in time. So we will go to the one in Connecticut or maybe the one scheduled for Pennsylvania later in the summer. Wanted to meet up with Debbi Tehrani afterwards for dinner, but I will have to meet up with her another time.
I want to write something interesting and give you a chuckle, but nothing really funny happened to me this week. Bookstore, market, post office, meals, baths, snacks, bedtime stories... yeah, certainly don't want to bore you with that. I did lose Rianna at the market yesterday. Yeah. But I am not proud of that moment and it wasn't funny so I will just leave that alone. Really have to declutter the house, my scrap supplies and the kids toys need organizing. Jabran is turning 5 on the 17th and I need the house ready for the party. He wants a Ben 10 theme. They are growing up so fast. The other morning I saw my daughter and she looked so mature. I mean mature like she is already turning 3 and
really looks
it. She lost that toddler look. Where did my babies go? I started bawling, yeah. Really would like one more, but it doesn't look like it's going to happen.
Before I share what scrapping frenzy I have been up to since my last post, I HAVE to share my favorite blog entry this week. I was literally in tears laughing so hard because I SO can relate to this, but hers is much worse!!! Check this out:
Crazy hair
at Lisa Dickinson's blog! So freakin' funny!
So here are some pages I'd like to share, and they all have RED, YUM!
Color Combo #69 and Pencil Lines
This was for
Color Combos Galore #69
last Monday. We had one of my favorite scrappers,
Lisa Dickinson
as our guest. She suggested tiffany blue and red so I sent her this combo: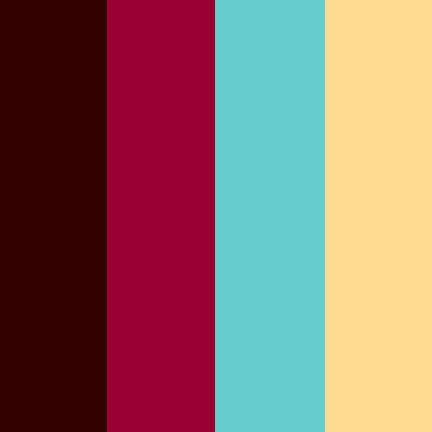 seal brown - carmine red - tiffany blue - buff
This is what I created with the colors using Anna Bowkis's sketch for
Pencil Lines #82
. Okay, I LOVED THIS HAT!!!! Jabran was exactly 18 months old here. Too freakin' cute!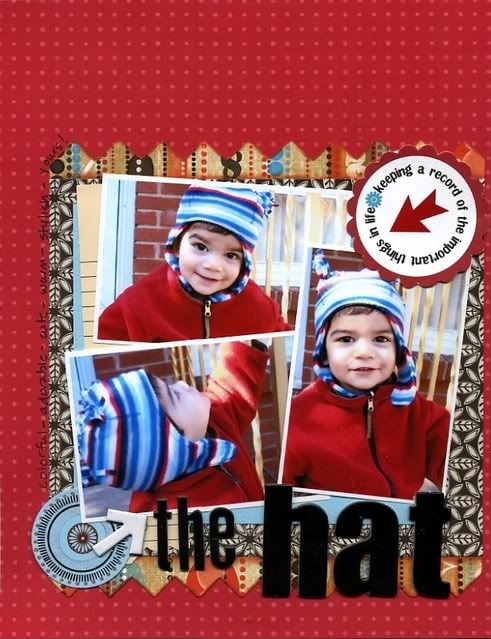 Color Combo #69 and Sketch This!
Here is a digi. I haven't played with digital products since March and kinda been missing it. The page was for
Sketch This!
using Lisa's colors from
Color Combo #69
again. Also combined it with a really cool
journaling challenge
where Emily gave us a
Random Word Generator
and I had to use one of the words it spit out at me. One of them was baffle. Okay, so this story is scary at first, but a bit funny afterwards. We we all in the living room, Jabran was about 10 months old minding his own little business on this mechanical swing. I had asked my husband to move him a little closer to me on the couch. Just as he was bringing him over, BANG! It BROKE! I was stunned to see Jabran on the floor like that, but he wasn't even crying! We checked him and he was fine, but I needed to grab my camera before we got him out.
NSD at Two Peas
Here is one that I did for Jennifer Pebbles chat on Saturday. Layouts take me for-EVAH to finish and I was surprised I whipped this up in time. Here is what she said:
So take 3 minutes: Grab the following (fast-don't think about it)...
one sheet of cardstock
one piece of pattern paper
one tag
one label
one stamp
one sticker
one rub on
one brad
*optional: one embellishment/chipboard/acrylic etc.*
and either one photo or skip the photo.
I got off the chat and headed downstairs. My ink got smudged and I didn't finish the journaling, but it took me 43 minutes. Does it look it?
Color Combo #70 and Pencil Lines
This was for
Color Combos Galore #70
. This week we have
Cindy Liebel
as our guest this week and I just love her work! She wanted red and gray so I sent her a bunch and she chose this one: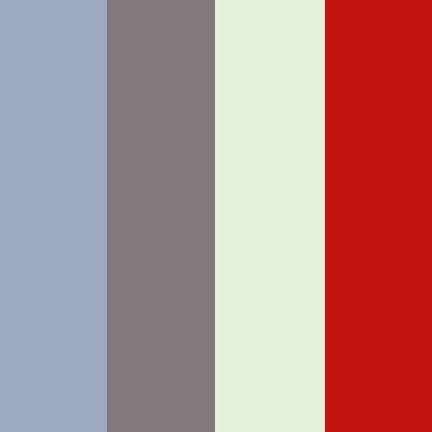 slate blue - taupe gray - seafoam green - fire engine red
These colors screamed patriotic to me, so I found this picture that I had taken when we were going to the NY Aquarium last summer. There was a fire truck in the parking lot and we asked if we can take some pictures. I used Debbie Jewell's sketch for
Pencil Lines #83
.
Sketch This!
And finally, another digi for this week's
Sketch This!
:
and that's it! Thanks for looking guys! Tomorrow I am headed back to the NY Aquarium, YAY! Love that place! Zayn's taking a school field trip there and I am a chaperone.
Wonder how many kids I am going to get, wish me luck!!!